Just like every single event that occurs is linked to climate by people using that as an agenda, I link everything I can to the weather cause my agenda is Weather Weather Weather. As you know, I view it as unfortunate that weather and climate are now not just weather and climate.  They are tools for missives that take the purity of what I have loved since a kid, and dragged into a sewer or agenda-driven politics
A few weeks ago, I was alerted to the spike that was occurring in Texas. I stayed away from blaming it on a non-weather-related challenge that is occurring on our border. But there were howls of protest when Texas decided they did not need a mask mandate. That took effect on March 10. As a matter of fact, everywhere I went in Texas this past weekend did say to wear a mask, the point being it was the business's choice.  However, the gym I worked out at was at least smart enough to understand that wearing a mask while busting your tail could cause problems, so they had a note that said if you are working out and no one is near you, you can drop your mask.  I don't know about you but a high-rep set of squats and a mask have to lead to some interesting post-set reactions to me. But it takes your mind off the pain in your legs if you can't catch your breath and there are stars whirling around your head.
I would say there was just as much mask-wearing and non-wearing down there as when I went down there early in May. I know the Mexican restaurant across from Lake Conroe we liked was packed back then.  Houston was a ghost town, Conroe was Conroe.
But think about it. The cold came, cases spiked.    I suspect Gov Abbott knew cases had to go down after the spike. Texas was in very bad shape for a week at the end of Feb as the combination of Covid increase and cold weather-related problems was taxing hospitals around Dallas to the max.  But the weather has warmed and Covid has crashed. Since being alerted to this situation by a dear friend, who out of concern for me brought it up, I have watched the Johns Hopkins site every day.  They are testing more and getting fewer daily positives and the daily rate is under 4% now. The benchmark state seems to be RI at 2.3% Texas is down at. 3.9%

but Texas is a much larger state with 26X the population of RI and many populations centers bigger than what  RI has.  It is obviously colder in RI than Texas but then again people weren't crammed into shelters after being exposed to cold until they could get rescued.
So the numbers were stacked in favor of the Governor of Texas when he took away the mandate. Why people did not understand that is likely because they paid no attention to the weather aspect as a reason to spike it in the first place, meaning that simply warming it up and recovery would help do the trick.  A lot of southern states spiked after the cold hit.  And that lesson should not be lost on areas further north because it is going to get cold where it is warm of late   Will anyone even consider this that reports on it? Of course not. Why? well, one I may not be right, it would not fit a missive.  The Weather is a tool to many and so it must be molded to fit whatever you want it to fit. This is very very strange to me since it's the weather that actually forces the reaction.
But the bottom line is major cold is coming to areas in the plains, lakes, and northeast that have warmed up, and perhaps people with open minds will understand there could be a response to that happening.
It is not like the Covid this winter did not follow a similar trajectory to the flu ( don't get me started on how the flu disappeared this winter)
The weather that while may not be in control certainly has an influence and another example of that may be lurking with the cold coming
When you go from this: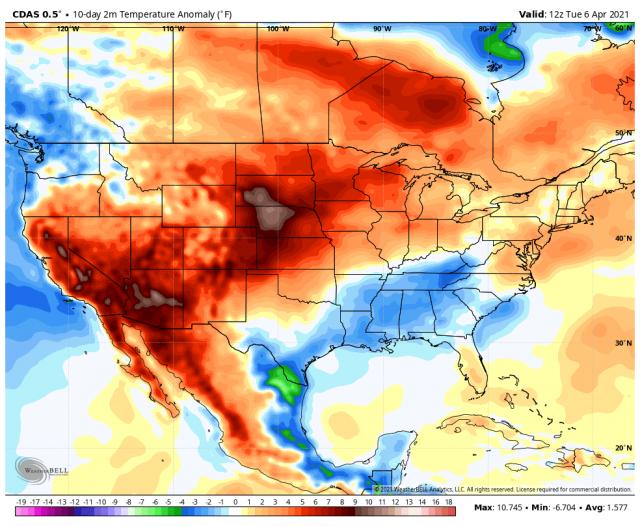 to this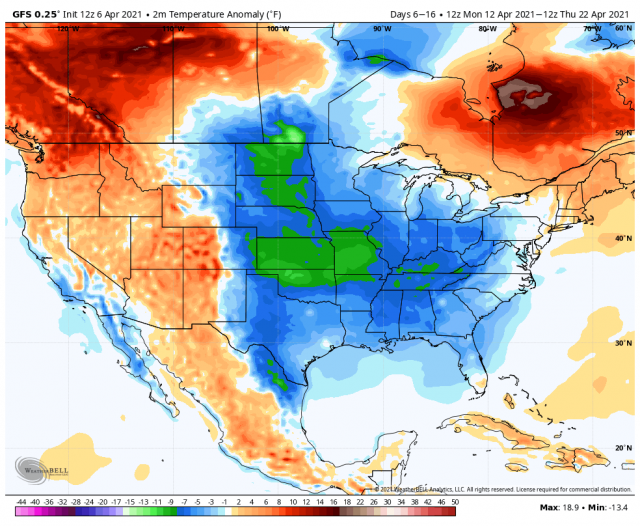 and you have a virus that spiked in the winter around, you should sit up and take some notice.  And beware of people labeling it for reasons that exclude the correlation with the weather. Anyone even talking about this and drawing on this possible precedent? Of course not but rest assured if Covid cases come back again later this month,  there will be some other reason listed.   It's the world today.