The storm was pegged as likely to develop last Sunday.
By Wednesday I was convinced it was hitting land and had a landfalling hurricane  near SE RI ( our track the large H).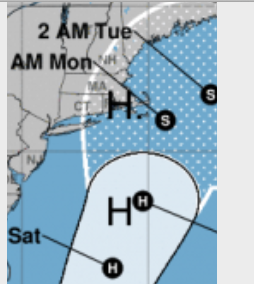 On Thursday the track was shifted west to the twin forks of Long Island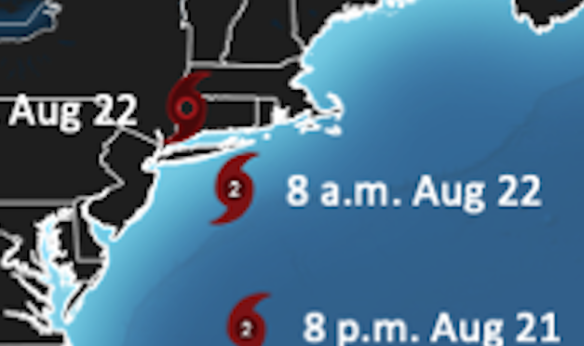 The reality was a hit midway in between. ( last NHC forecast).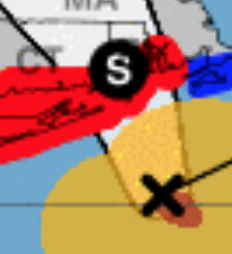 The reader is left to compare timing and tracks with other sources, but it appears as a lead forecaster on the storm, I had our company out in front but they varied from out to sea east of us, to about 75 miles to the west of us before the final outcome.
The idea of a storm hitting from the ocean moving west of north was also a forecast for an unprecedented event north of 40 degrees north,  though one that had been speculated about from the 1960s by my dad. The infamous "shortcut storm".   A storm that hits moving west of north, not east of north. The furthest north that has occurred is the 1903 Atlantic City hurricane.
But notice that storm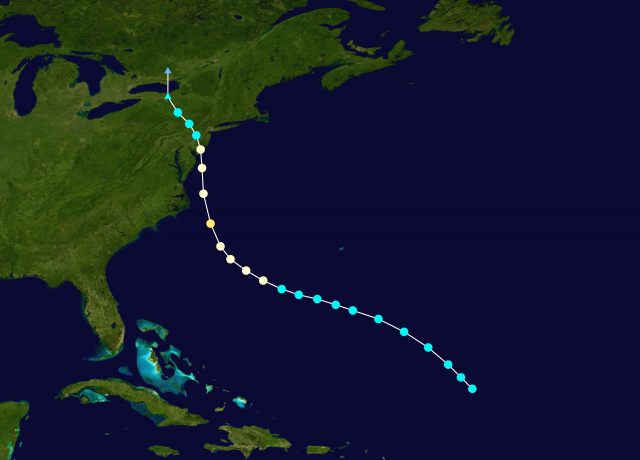 kept moving NW all the way to NY/PA border
So what is important to understand is. THERE IS NOTHING THAT SAYS THAT KIND OF TRACK CAN NOT HAPPEN FURTHER EAST.
The forecast idea I had on Henri for this to intensify for a time to at least a 2 and be that problem was based on the idea that once the storm got rid of the shear, it would intensify and quite fast.  The National Hurricane Center was clearly better on this matter. Part of the fear in my statement was the knowledge of past storms that would rapidly feedback as they approached land. But this did not. But there is nothing to say it can't happen and even in this season given the overall pattern with its inherent threats for classic storms, we may be faced with shortcutting again. Obviously the further south the bigger the chance.
Remember Joaquin? Or Wilma?  Those storms, due to indirect interaction with upper features to the west, were contributing to extreme rains,   So this is a  side aspect of this storm also as we see immense amounts of rain over NJ. NY, and parts of pa with the upper feature to the west.  The tropical cyclone and its heavy rain is to the east, but large scale moist air being pushed back by the hurricane helped add to the problem as you can see with the banc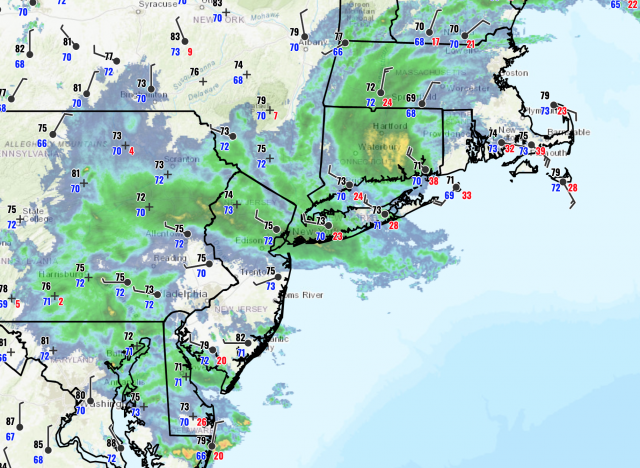 If this had hit as the storm I feared, then climate change would likely be blamed, but again the question still remains, why couldn't this ( shouldn't this) happen?
And Long Island, Hit by hurricanes most recently as 1985 ( Bob was just to the east officially), 1976,1960,1954, 1944, and 1938 continues this streak of non-hits.  So the spread since 1938 has been 6, years, 10 years,,6 years, 16,9, and now 36.  So you have 4x the average spread in the past 100 years.  Not a very good witness for things getting worse with hurricanes.
And Henri is the. FIFTH  tropical storm to hit the US with no hurricane hits,  I have to go back and look, but I can not remember a year when so many storms have hit, but NOT ONE HURRICANE!
I am likely guilty of having seen so many maps of how extreme the weather can be, that I lay in wait for something I believe has to happen naturally,  Certainly, the tracking ideas were ahead of the game, but the end game, when everyone paid attention, being overdone leaves the fear still there.  In addition, storms that explode coming to the coast are the biggest nightmare for the forecaster. ( hence the idea this is the storm I feared)  Gloria could be seen days away,  but Henri, like the Texas freeze, was under the radar due to a lot of other non-weather stuff going on ( in the case of Texas, the impeachment)  But this fear is not going to go away for me. And each storm is a new problem.
One more doom and gloom note. I was out on the east end of Long Island watching firsthand my end game over forecast in lack of action but picked up this tidbit. There has been a lot of beach erosion the last 2 years by 3 tropical origin cyclones, Isaias, Elsa and now this. So if this streak ends of no hits on Long Island these weaker storms may have set the stage for a bigger problem. Only time will tell,  But nature is always poised to teach lessons, one way or the other.
The ultimate irony: Mister "It is not as bad as people want you to think it is" ( me). winds up overplaying this.  Again, I am wondering why we have not seen with more consistency, what we saw in the 30s,40s, and 40s.  The occasional spike years have occurred but considering almost 30 major hits 1933-1960, the last 27 years in this day and age of its the worst ever have only seen 19.
Henri's track appears unprecedented in its west of north track at its Westerly, RI landfall, but fortunately, not as extreme as what  could have happened.
We cannot rest, as next week the Gulf may be a focus of concern again.
Nature's fury demands vigilance and preparedness.