I have written many times on the importance of weather in history. The Spanish Armada, Normandy, Bastogne, Leningrad, and on and on it goes.  The weather was so lousy the night Washington crossed the Delaware (akin to what is going on in some places today) that the occupants of Trenton had no idea they would cross and attack ( along with the fact it was Christmas).
And I am biased about the weather, I see its hand in everything.
But look at this euro control week 2 in the war-torn Ukraine.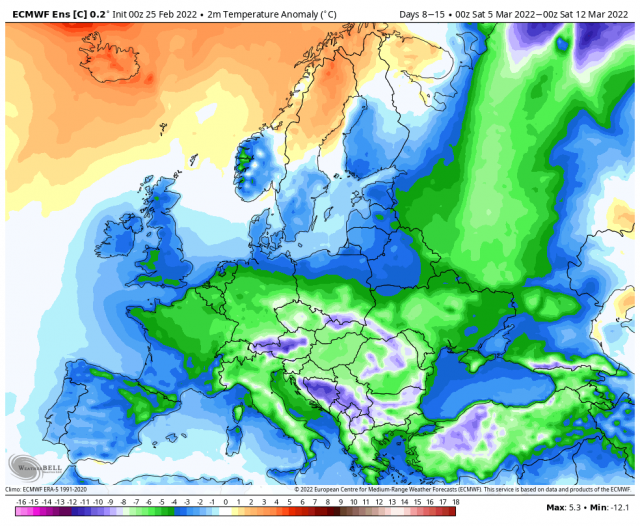 .
The winter in Ukraine and in much of Russia has been warmer than normal.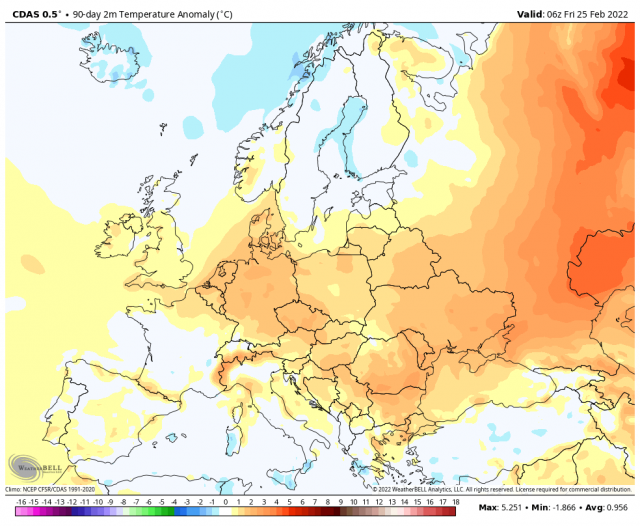 I have to wonder if knowledge of the flip in the pattern that would lead to extreme cold played a roll.
Consider: The Assault is taking place before the cold when the weather is relatively mild.
Obviously, power is going to be knocked out, This means no heat for the population. It will increase the strain on resistance.
Such widespread cold also enhances the demand for power.
Could Putin have chosen to attack in winter knowing Europe needed Russian energy?
Is it a coincidence?  I don't know,  I do believe though, given the geopolitical situation and the strain on global energy supplies, it plays into the hands of the aggressor.  And once again the decapitation of U.S. energy independence and the very things Reagan and then Trump warned about have come full circle leaving people weak and unable to respond in a way that may have deterred  the whole event.
The climate campaign may be playing a crucial role in a real war, one that may have been avoided with a strong reaction in the energy sector rather than what has evolved today.